Adding a new puppy to your family. Is there anything more exciting than that?
But buying a puppy online can be a minefield, especially when you don't know where to start or who to trust.
While it has its benefits, the internet offers countless resources for finding puppies, but with it comes a fair share of risks.
I remember when I got my puppy, Bailey, which all started online.
It was a rollercoaster of emotions, and I learned a lot about the process.
So, let me guide you through the ins and outs of purchasing a puppy online safely and effectively.
Looking to buy a puppy online? I would strongly recommend you check out PuppySpot.
They have thousands of pre-vetted puppies available at any one time, all drawn from an exclusive network of breeders, across a range of purebred and designer breeds.
Each dog also has their own profile for you to get to know them, and they all come with a full 10-year health commitment (the PuppySpot Promise).
The Process of Buying a Puppy Online
In this section, I would like to outline the typical process of buying a puppy online, from researching breeds to bringing them home.
Understanding this process will help ensure a smooth and enjoyable experience as you search for your perfect puppy.
Get To Know The Breeds
Start by researching the breed you're interested in to understand its specific needs, temperament, and potential health issues.
Make sure the breed is a good fit for your lifestyle and living situation.
Browse Reputable Websites
Once you've settled on a breed, browse reputable websites to find available puppies.
You can do this by only visiting sites that rank high in the search engines, display an SSL certificate (padlock in the search bar), and that you found via direct search.
Remember to only visit trustworthy platforms, like PuppySpot, to ensure a secure and reliable experience.
If in doubt, simply leave.
Review Testimonials/Reviews
If you think you've found a good site, then you need to undertake some additional precautionary checks.
Research the breeder or organization on third-party review sites (like Trustpilot, for instance) to gather unbiased opinions from previous customers.
This will give you a better understanding of their reputation and the quality of their puppies.
Browse The Puppy Inventory
Once confirmed that the breeder, website or organization is legitimate, return to the site and start taking a further look around.
Take a look through the current inventory of puppies, closely looking for a match of what you are looking for.
Consider factors like their age, availability and review their profile (to get an understanding of their upbringing and background thus far).
Contact the Breeder/Organization
After finding a puppy that catches your eye, reach out to the breeder or organization to express your interest.
Use this opportunity to ask questions about the puppy's health, background, and temperament.
Don't be polite here.
The more information you can collect, the better.
Request Additional Photos/Videos
Ask the breeder for more photos or videos of the puppy, its parents, and living conditions.
This will provide you with valuable information about the puppy's health, appearance, and the breeder's facility.
The better organizations will provide a lot more of these at the outset.
Secure Payment and Deposit
Once you're confident in your decision, secure the puppy by placing a deposit.
Use a safe payment method, such as a credit card or PayPal, which offers buyer protection.
Health Guarantee and Contract
Review and sign a contract with the breeder, including a health guarantee, ensuring the puppy is healthy and up-to-date on vaccinations.
The contract may also outline terms for spaying/neutering, breeding rights, and other important details.
Arrange Transportation
Coordinate with the breeder to arrange transportation for your new puppy.
This may involve shipping the puppy by air, hiring a professional pet transportation service, or picking up the puppy in person.
Prepare for Your Puppy's Arrival
Before your puppy arrives, make sure your home is prepared with essentials like food, water, a bed, toys, and a crate.
Set up a designated area for your puppy and puppy-proof your home to ensure their safety.
Welcome Your New Puppy Home
When your puppy arrives, give them time to adjust to their new surroundings.
Be patient, loving, and consistent with training, socialization, and bonding.
Remember, your new family member will need time and support to feel comfortable in their new environment.
Red Flags To Be Aware Of When Buying A Puppy Online
As I mentioned earlier, my first experience with buying a puppy online wasn't all sunshine and rainbows.
I encountered a few red flags along the way, but I learned from them and ended up being able to tell a good breeder/organization from a bad one.
Here are some warning signs to look out for:
Suspiciously Low Prices
If a deal seems too good to be true, it probably is.
Scammers often lure unsuspecting buyers with low prices for purebred puppies.
Do your research on the average price for the breed you're interested in, and be wary of significantly lower prices.
Lack of Communication
A reputable breeder should be open, honest, and willing to answer all your questions.
Consider it a red flag if a breeder is evasive, unresponsive, or unwilling to provide information about the puppy.
No/Limited Pictures or Videos
A genuine breeder should be able to provide current photos and videos of the puppy, it's parents, and living conditions.
If they're unwilling or unable to do so, or they look off somehow, be cautious.
Pressure to Pay Upfront
Never send money before seeing the puppy in person or via video call.
Scammers often pressure buyers to pay upfront and then disappear.
Legitimate breeders will typically require a deposit, but it should be a reasonable amount and only after you've seen the puppy.
Poorly Written Ads or Websites
Watch out for ads or websites with poor grammar, misspellings, or inconsistent information.
Scammers often use poorly written content to attract potential buyers.
Things To Consider When Buying A Puppy Online
Before diving into the online puppy purchasing world, it's essential to understand several key aspects of the process.
Being well-informed will help you make the right decision and ensure a smooth experience.
Understand the Terms and Conditions Before Committing
Before you commit to buying a puppy online, it's crucial to thoroughly review and understand the breeder or organization's terms and conditions.
This includes information on health guarantees, refund policies, spaying/neutering requirements, and other essential details.
By fully understanding the terms, you can avoid potential misunderstandings or conflicts later on.
Understand the Timelines Involved
Purchasing a puppy online can take time, particularly when considering factors such as breed availability, breeder location, and transportation arrangements.
Make sure you clearly understand the expected timeline, from initial contact with the breeder to the arrival of your new furry family member.
This will help you plan and prepare for your puppy's arrival and ensure a smooth transition.
Puppy Inventory Changes All the Time
When searching for your perfect puppy online, keep in mind that the availability of puppies can change rapidly.
Breeders and organizations continually update their inventory as puppies find new homes and new litters become available.
If you find a puppy you're interested in, act quickly but responsibly to avoid disappointment.
At the same time, be prepared to be patient and flexible, as it might take some time to find the right puppy for you.
Online Breeders That I Recommend
After my experience with Bailey, I've learned a thing or two about reliable breeders and online platforms. Many I would stay away from, quite frankly.
PuppySpot
One such platform that I can confidently recommend is PuppySpot.
They have a fantastic, reliable and reputable service with a vetted online prescence.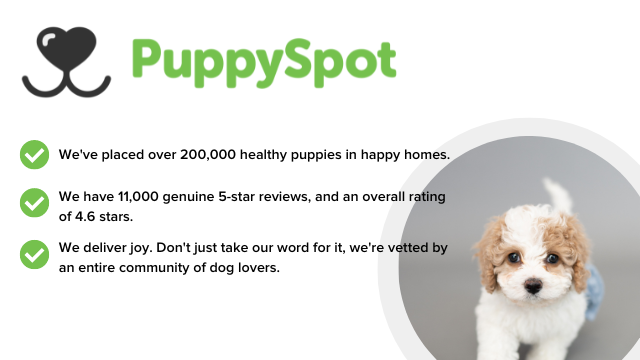 At its core, PuppySpot connects responsible breeders with those looking for their perfect puppy.
Their rigorous screening process ensures that only the most reputable breeders are included in their network.
Each breeder must pass PuppySpot's comprehensive evaluation, which examines their breeding practices, facility cleanliness, animal care, and overall commitment to being ethical.
Beyond that, the website is easy to use, they offer an extensive range of breeds, each puppy has an extensive profile (breed, health, temperament, and background) and you can reach out to the PuppySpot team for further information on any puppy, at any time.
You can call them in fact.
You really do get a transparent experience.
Additionally, they provide a 10-year health guarantee, ensuring your new pup is healthy and up-to-date on vaccinations.
Lastly
Buying a puppy online can be a safe and enjoyable experience if you take the necessary precautions and do your research.
I would say to you at this juncture, if you have any doubt whatsoever, walk away.
Or should I say click away.
Unfortunately, online fraud is rife, and scammers are always finding innovative new ways to catch you out.
You have to be really careful.
So, while you may have to pay a little more than some of the more eye-catching deals, going through a reputable organization like PuppySpot really is the way to go.
Trust me.
I am an experienced pet owner with decades of experience owning a number of different pets, from traditional pets like dogs and cats, to the more exotic like reptiles and rodents. I currently own a Cockapoo (pictured) called Bailey. I am also the main writer and chief editor here at Pet Educate; a site dedicated to sharing evidence-based insights and guidance, based on my vast pet ownership knowledge, experience, and extensive research.