Are you excited about the prospect of getting a new puppy?
Perhaps you've heard about Buckeye Puppies, and are wondering whether you should go through them and use their service?
Well today, I'd like to like to provide you with some further information about them in this Buckeye Puppies Review here today, answering some questions you likely have and providing some personal recommendations and suggestions along the way.
Besides, nothing is more important than the breeder you get your puppy from.
Their health, and your resulting experience as a dog owner simply depends on it.
So, in the interest of time. Let's get started, shall we?
Quick Verdict
Due to the varied experiences of former customers with Buckeye, I personally wouldn't take the risk.
Instead, may I suggest you check out PuppySpot.
They are a specialist, award-winning and reputable service connecting an exclusive network of pre-vetted breeders with new potential puppy owners.
Each dog has their own profile for you to get to know them, you can ask all the questions you will ever want to ask, puppies are delivered to you, and they all come with a full 10-year health commitment (the PuppySpot Promise).
What Is Buckeye Puppies?
Buckeye Puppies is an online service connecting breeders with individuals looking for puppies within the North Eastern US states; specifically Ohio, Indiana and Michigan.
In other words, they act as an intermediary, while also offering advertising opportunities.
Is Buckeye Puppies A Puppy Mill?
Buckeye Puppies is not inherently a puppy mill, though there are questions and reservations about the dogs that are sold via the site, specifically the breeders that list and use this service to sell their puppies.
One thing to note is that when using Buckeye puppies, you will be making arrangements directly with the breeder and you will be purchasing directly from them.
In other words, it appears that the responsibility falls upon the puppy buyer, and to ensure relevant due diligence i.e. visiting/researching the breeder, meeting the puppy, etc.
Should You Buy A Puppy Through Buckeye Puppies?
Whether or not you should buy a puppy through Buckeye puppies is going to come down to personal judgement and circumstance.
From my own independent research, there does appear to be a mixed set of experiences and anecdotal reports, which you can see more of on sites like SiteJabber and ComplaintsBoard.
It is also hard to ignore this Facebook Page titled: "Shut down LancasterPuppies and BuckeyePuppies".
Why I Recommend PuppySpot Instead
Personally, I am a huge advocate of PuppySpot for securing a puppy online safely and confidently.
Here is why:
All Breeders Are Vetted
One of the standout qualities of PuppySpot is their unwavering commitment to ensuring all breeders are thoroughly vetted.
The proprietary screening process, developed by PuppySpot's independent Scientific Advisory Board, is comprehensive and mandatory for every breeder at the time of onboarding, and annually thereafter.
This goes above and beyond state and federal standards, giving me confidence in the quality of dogs and the ethical standards of the breeders.
All Puppies Come With A 10-Year Health Commitment
PuppySpot's 10-Year Health Commitment is another remarkable aspect that sets it apart from Buckeye Puppies.
As an owner, it gives me peace of mind knowing that PuppySpot stands behind the health of the puppies they place in homes, and it's a testament to their faith in the quality of their breeders.
There Is Easy, Safe Delivery
The delivery process of a puppy is another critical factor that PuppySpot excels in.
They employ a private travel network to ensure the health, comfort, and quality of the journey from the breeder's doorstep to your arms.
PuppySpot offers different delivery options, including a puppy chaperone who accompanies your puppy in the cabin of the plane, ensuring your new family member arrives safely and stress-free.
They also provide services to deliver your puppy near your home, working with licensed professionals in the commercial air and ground puppy travel business.
You can even arrange to meet the breeder and your new puppy at a location near the kennel, making the process as smooth and personalized as possible.
With PuppySpot, you can get your puppy home within 2-3 weeks.
They Are A Trusted Organization
PuppySpot's reputation as a trusted organization is well-established, with over 220,000 happy puppies placed.
They have countless positive reviews on independent reputable platforms like Trustpilot, too.
This impressive number shows that PuppySpot not only provides a service but fosters a community of happy and satisfied dog owners.
They Offer A Breed Match Quiz
To further simplify the process of finding your perfect companion, PuppySpot offers a Breed Match Quiz.
This tool guides potential owners in identifying the breed that best fits their lifestyle and preferences, a service not offered by Buckeye Puppies.
They Have An Extensive Range of Breeds and Puppies for Sale
Lastly, the extensive range of breeds available for sale is another reason to choose PuppySpot.
From the ever-popular Labrador Retriever to the new and upcming hybrid breeds like Labradoodles, PuppySpot has an impressive variety of breeds, appealing to all dog lovers.
They Operate Nation-Wide
PuppySpot's service extends to almost all US states, including the areas in which Buckeye operates: Ohio, Indiana, and Michigan.
Final Verdict
Having been through the process several times, it has taught me the importance of due diligence when choosing a puppy service.
While Buckeye Puppies could be a viable choice for some, it's essential to use it with discretion.
Thorough research and due diligence should be a part of your process when opting for this service.
It's crucial to understand their procedures, ensure their breeders are reputable, and that the health and well-being of the puppies are a priority.
On the other hand, PuppySpot presents a safe, reliable alternative that I believe more people need to know about.
They provide a seamless experience from beginning to end, ensuring that all breeders meet rigorous standards, providing a health commitment for a decade, and offering convenient, stress-free delivery options.
The safety and satisfaction of their puppies and new owners are always at the forefront of their services.
At the end of the day, the choice comes down to what you value most in a service and what's best for your potential new pet.
After my numerous experiences, I can confidently recommend PuppySpot as a trustworthy, compassionate service that genuinely cares about the puppies they place and the families they join.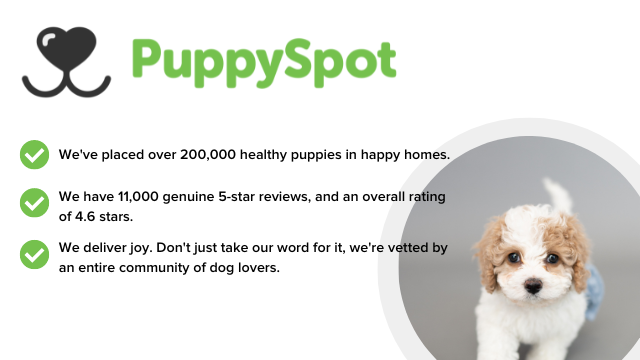 Related guides:
I am a practiced pet owner with decades of experience owning a number of different pets. I am also the main writer and chief editor here at Pet Educate; a site I created to share everything I've learned about pet ownership over the years and my extensive research along the way.