Are you keen to add a new puppy to your home?
Maybe you are interested in doing so through Keystone Puppies.
But let me guess; you are questioning whether this is a service you should use.
Well today, I'd like to like to provide you with some further information about them in this Keystone Puppies Review.
I'd like to answer some questions you likely have about this service.
I am also going to be providing some personal recommendations and suggestions along the way.
Quick Verdict
While Keystone Puppies appears to be a legitimate organization with a commitment to ethical breeding practices, I personally would recommend PuppySpot Instead.
They offer a much longer, 10 year health commitment guarantee 'PuppySpot Promise', they have experience placing 100x more dogs, they have an independent Scientific Advisory Board which collaborates with the USDA and they have a more extensive network/availability of puppies/across more breeds (including purebred dogs too).
What Is Keystone Puppies?
Keystone Puppies is an online advertising service for screened breeders. It is a family-run business (with 4 employees) operating out of Pennsylvania (PA).
Keystone Puppies does not house, purchase, raise, or accept funds for puppies.
As such, any questions regarding each puppy (temperament, health, and/or payment) must be done directly with each breeder.
That being said, Keystone Puppies report to visit every breeders location and inspect the breeding facilities/practices.
According to the website, should the breeder comply with the standards set, Keystone Puppies take pictures of each puppy ahead of listing and onboarding.
Is Keystone Puppies A Puppy Mill?
Keystone Puppies is not considered a puppy mill. Instead, they are considered a broker/online advertising agency connecting certified breeders with people looking for puppies.
It's important to note that how you view the term 'puppy mill' largely influences how you categorize Keystone Puppies.
An important point to note is that Keystone Puppies have a designated accredited breeder program; which helps to ensure that breeders are held accountable for their breeding practices.
They also have employed an Animal Welfare and Breeder Accountability Specialist to inspect/educate/support breeders; they also conduct semi-annual surprise visits where they review breeding facilities/practices.
Should You Buy A Puppy Through Keystone Puppies?
Whether or not you should buy a puppy through Keystone Puppies is a decision that only you can make.
From my own independent research, this does seem to be a service that has measures in place to only list puppies from reputable breeders.
There also does appear to be a number of positive experiences from former customers. Trustpilot is a good place to see this.
That being said, due to the nature of the service they offer, you do need to conduct your own thorough due diligence. Especially on the breeders of each dog that you may be considering.
In fact, there are several threads/posts on the Dog Forum and Reddit that have called this particular service out.
So, I would recommend you check those sites out, first and foremost.
Here's a couple, for reference:
Why I Recommend PuppySpot Instead
Personally, I would recommend you consider PuppySpot if you are looking to get a new puppy.
Here is why:
The Breeders Vetting Process Seems More Comprehensive
First off, what particularly impressed me about PuppySpot is the meticulous attention they pay to the screening of breeders.
The breeder vetting process at PuppySpot appears to be far more comprehensive than that at Keystone Puppies.
PuppySpot mandates a rigorous, proprietary screening process that all breeders must pass at the time of onboarding, and again annually.
The screening process, developed by their independent Scientific Advisory Board, surpasses all state and federal standards.
Additionally, PuppySpot collaborates with the USDA, which offers a higher assurance of ethical practices and healthy puppies.
They Offer A Longer, 10-Year Puppy Health Commitment
PuppySpot's 10-year health commitment was a clincher for me.
Every puppy they offer undergoes an extensive Nose-to-Tail health check, ensuring they're fit and ready for their new homes.
Their Transportation Service Appears Safer
Transportation is a significant consideration when bringing a new puppy home, and PuppySpot has this aspect meticulously covered.
They ensure every puppy's travel, whether on a commercial airline, in-cabin with trained chaperones, or along one of their select ground routes, is in adherence with USDA guidelines for proper animal care and PuppySpot's own time limits.
Working with trusted licensed professionals in the commercial air and ground transportation puppy travel business, PuppySpot ensure puppies arrive at a pickup location as close to your home as possible.
They've Placed 100x More Puppies
Experience matters in any industry, and PuppySpot clearly has an edge here, having placed 200,000 puppies compared to Keystone Puppies' 2,000.
This massive difference in numbers indicates the trust and confidence that puppy parents have placed in PuppySpot over the years, contributing to my decision to switch to their service.
There Is An Extensive Range of Breeds/Puppies For Sal
Lastly, the diverse range of breeds available at PuppySpot, including both purebred and designer breeds, provided me with a wide canvas to choose my new family member.
Final Verdict
Navigating the world of puppy adoption can seem overwhelming, with many platforms and breeders to choose from.
Keystone Puppies, on the face of it, does appear to be a service to consider.
However, on reflection, I would be personally far more comfortable going through PuppySpot.
But ultimately, this is a decision only you can make.
Whatever you choose, be mindful, meticulous and conscious throughout the process.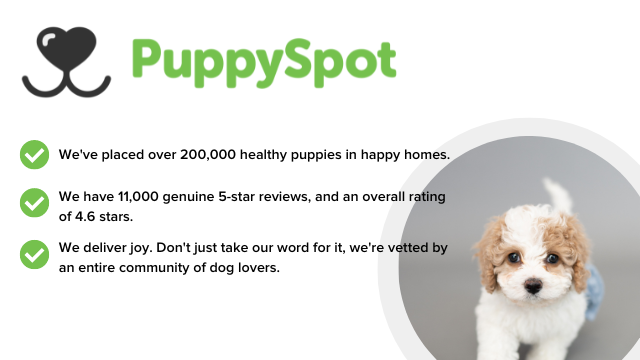 Related guides:
I am a practiced pet owner with decades of experience owning a number of different pets. I am also the main writer and chief editor here at Pet Educate; a site I created to share everything I've learned about pet ownership over the years and my extensive research along the way.